Welcome to British Battles (britishbattles.com).
Welcome to Britishbattles.com the site that gives you the battles fought by Britain and its Empire forces, illustrated and mapped.
Click on the battle you wish to view in the left margin list. The battles are listed chronologically by war.
Our most recently posted battles are:  
The hard-fought struggle to capture San Sebastian, the small city port on the north-east coast of Spain near the French border, between 11th July and 9th September 1813 in the Peninsular War
Wellington's retreat to Ciudad Rodrigo following the unsuccessful Attack on Burgos in the autumn of 1812 in the Peninsular War
The Battle of Vitoria in the Peninsular (a comprehensive re-write)
Wellington's decisive defeat of Joseph Bonaparte's French army on 21stJune 1813 in North-Eastern Spain in the Peninsular War
The clash in the mountains of Northern Spain on 18th June 1813 between the van of Wellington's advancing army and General Reille's French 'Army of Portugal', withdrawing on Vitoria.
The successful cavalry action fought by the British Hussar Brigade against the French 16th and 21st Dragoons on 1st June 1813.
Wellington's unsuccessful assault on the Spanish City of Burgos between 19th September and 25th October 1812, following the Battle of Salamanca.
Sir Robert Napier's capture, on 13th April 1868, of the Fortress of Magdala, stronghold of the Emperor Theodore III of Abyssinia.
Wellington's victory on 22nd July 1812 over the French army of Marshal Marmont, leading to the re-capture of Madrid; also known as the Battle of Los Arapiles or Les Arapiles.
A war recently chronicled on British Battles is the 'Wars of the Roses'.
British Battles has published battles of the English Civil War:
The Battle of Edgehill is the first important battle.
We have on our site a long list of battles with descriptions of what took place and other essential information.  Most of our pages have a map of the battle designed and drafted by our own Military Cartographer,  John Fawkes
While our battles are primarily British battles there are many other battles of interest including all the important battles fought by Frederick the Great, King of Prussia in the Mid-18th Century.
All the battles are extensively illustrated with pictures both well-known and more obscure.  Prints of many of these pictures can be purchased through the site as can the maps.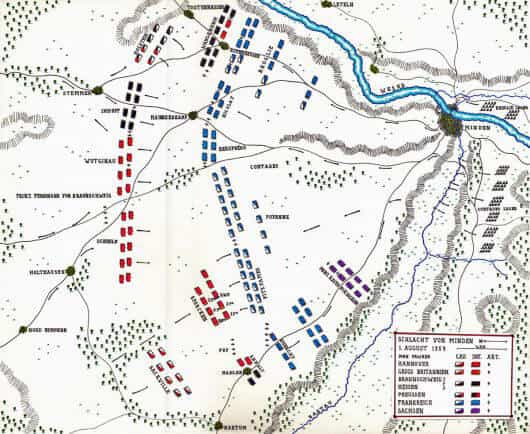 Map of the Battle of Minden fought on 1st August 1759 by the Prussians, Hanoverians, Hessians and the British against the French; at which the British infantry made their famous advance against the French cavalry with roses in their hats, an episode celebrated every year by the "Minden Regiments"
Our most recent additions are:
The battles of Frederick the Great:
First Silesian War: Mollwitz, Chotusitz
Second Silesian War:  Hohenfriedburg, Soor, Kesselsdorf,
Seven Years War:  Lobositz, Prague, Kolin, Rossbach, Leuthen, Zorndorf, Hochkirch, Kunersdorf, Liegnitz, Torgau and Burkersdorf).
Among the other battles and wars on the site are: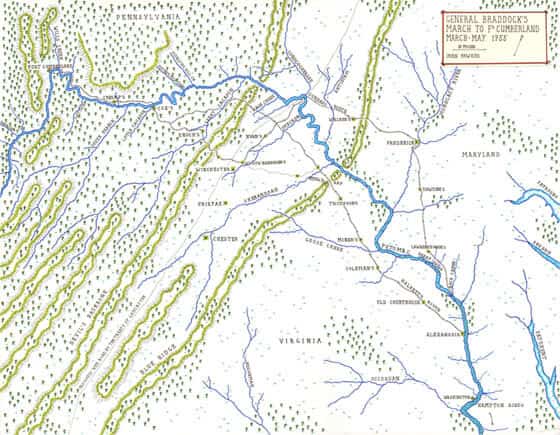 General Braddock's March to Fort Cumberland through the Northern Neck of
Virginia and through Maryland – March – May 1755 – Map by John Fawkes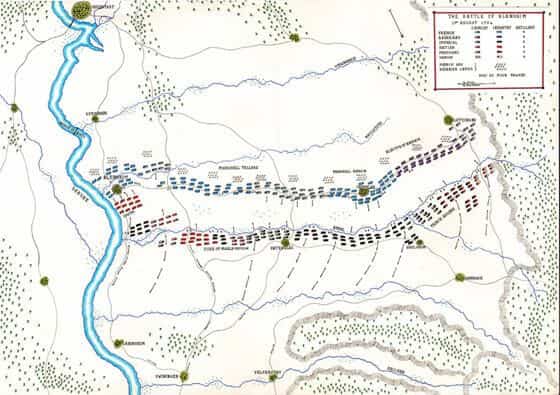 Map of the Battle of Blenheim 2nd August 1704 by John Fawkes