Welcome to British Battles (britishbattles.com).
Welcome to Britishbattles.com the site that gives you the battles fought by Britain and its Empire forces, illustrated and mapped.
Click on the battle you wish to view in the left margin list. The battles are listed chronologically by war.
The most recent war to be chronicled on British Battles is the 'Wars of the Roses'.
British Battles has published battles of the English Civil War:
The Battle of Edgehill is the first important battle.
We have on our site a long list of battles with descriptions of what took place and other essential information.  Most of our pages have a map of the battle designed and drafted by our own Military Cartographer,  John Fawkes
While our battles are primarily British battles there are many other battles of interest including all the important battles fought by Frederick the Great, King of Prussia in the Mid-18th Century.
All the battles are extensively illustrated with pictures both well-known and more obscure.  Prints of many of these pictures can be purchased through the site as can the maps.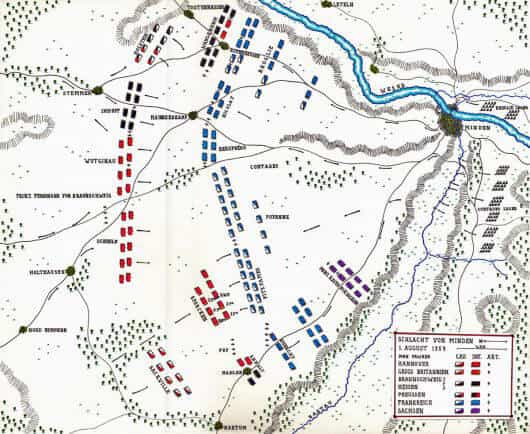 Map of the Battle of Minden fought on 1st August 1759 by the Prussians, Hanoverians, Hessians and the British against the French; at which the British infantry made their famous advance against the French cavalry with roses in their hats, an episode celebrated every year by the "Minden Regiments"
Our most recent additions are:
The battles of Frederick the Great:
First Silesian War: Mollwitz, Chotusitz
Second Silesian War:  Hohenfriedburg, Soor, Kesselsdorf,
Seven Years War:  Lobositz, Prague, Kolin, Rossbach, Leuthen, Zorndorf, Hochkirch, Kunersdorf, Liegnitz, Torgau and Burkersdorf).
Among the other battles and wars on the site are: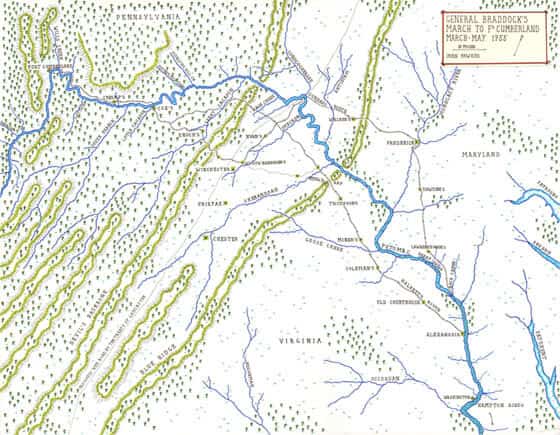 General Braddock's March to Fort Cumberland through the Northern Neck of
Virginia and through Maryland – March – May 1755 – Map by John Fawkes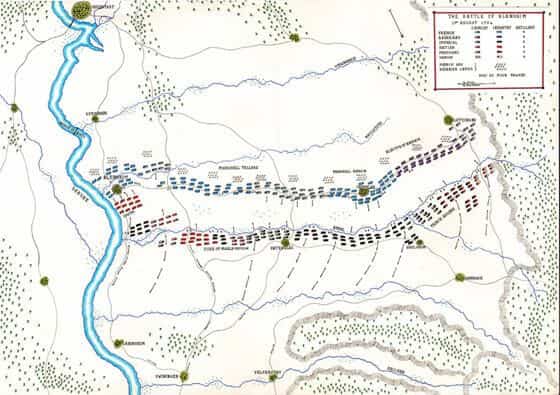 Map of the Battle of Blenheim 2nd August 1704 by John Fawkes